How to Apply Concepts You Learned in
Common Law Remedy

to Rebut the Presumption of Your Identity

If you are reading this page, you must have realized the importance of taking control over your own identification and not allowing the State to assassinate your character through identity theft and assumption of political preference.

In this report, Your Declaration of Truth Notice And Affidavit Of Identity, you will learn about how to craft an affidavit that will not be rebutted. Yet, you should also be aware that there are other benefits to being in control over your own identity when it comes to confrontations with the state and federal governments.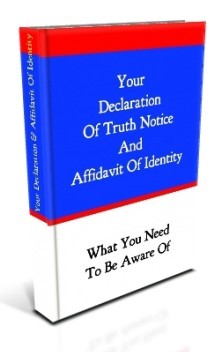 In addition to finding freedom from the ever increasing nanny state meddling in your personal business, there are benefits – like the avoidance of tax obligations – that you never dreamed existed, but which knowledge has been systematically kept from you by what amounts to outright intimidation and criminal fraud.

Understanding the historical context of the legal precedents which have been set in place that have fashioned the current milieu as between a private de facto (of the fact or a matter of fact) government and its citizens can be of significant importance as it helps one to understand how the system of government we presently have got to where it is today. You still have access to the de jure (according to law) government found in the original organic founding documents of this country; that is, if you know how to access and insist upon that lawful jurisdiction.

Once you begin to understand how to hold this de facto government accountable for its actions, a miraculous thing begins to occur. You begin living in a republic where those people who are vigilant of their freedoms hold control over their government servants rather than vice versa. This in turn creates an experience of peace of mind with regard to your relationship with government. Peace of mind mixed with eternal vigilance. If you are not willing to stand up for your rights and hold your public servants accountable through vigilance, then this material is not for you.

In our report, Your Declaration of Truth Notice And Affidavit Of Identity, you will learn about:
The one thing you need to know to put a screeching halt to unlawful injustice in just about any legal matter, whether it be a frivolous traffic ticket, a family court issue, debt and credit issues, or even tax issues.


The inimical mindset that keeps people in their place and from seeing the truth about how to successfully assert their natural rights.


The one thing you need to do in order to maintain your freedom from a coercive government in what seems to be an increasingly unfree world.


The mindset that you need to adopt if you want to keep and maintain your freedom from coercive government.


The simple change you can make in response to inquiries from government agents and officials that will change the way they approach you.


Why you need to become aware of commercial law – what it is and how it works – in order to better understand how the present system of government and our legal system works. This is a key to maintaining your liberty.


The legal principle that is never fully explained or emphasized in public schools which explains how your ethical and moral rights (as protected by the U.S. Constitution and the common law) can be bypassed in a legal matter.


How a court gets away with not insisting on all the evidence being entered into the proceeding and how you can counter that.


The little known legal twist in commercial law that allows a judge to turn reality on its head, sanctioning "equitable relief" to an artificial entity (legal fiction).


The common law process that bypasses the courts altogether and allows the issuer a non-judicial judgment.


Your ability to invoke the law of your choice.


Your right to serve notice upon the government in the same way that government serves notice upon its citizens.


The characteristics and properties of a valid and effective affidavit.


A method by which you may file public notice of your intent, thus foreclosing the presumption that certain issues have not been previously rebutted.


How to put the burden of proof on your opponent within your affidavit. This legal maneuver will have your opponent pulling out his hair!


The precedent in law that prevents the government from pursuing you in its court.


The little known acknowledgment in law regarding the unethical (and therefore unlawful) use of a legal fiction name in a matter that may lend itself to fraud through concealment of material facts.


How to render state issued documents (such as a state issued driver license or identification card) null and void for purposes of personal identification.


How to assert in writing that a thing be done "according to the course of the common law;" this is something a judge cannot ignore and can be very powerful in an administrative court.


Specific ideas that you may want to include in your affidavit to make it bullet-proof against rebuttal.


How to combine a declaration of truth Notice with an affidavit of Identity into one document which is to be understood according to the common law.


How to dispel paranoia from the mind concerning the actions of what appears to be a tyrannical government. A clear and unconfused mind, allowing you to maintain your poise, is a definite asset in preserving your liberties.


Three anecdotal evidence stories regarding the effectiveness of the refused for cause process to help the reader gain confidence in this process.
The crowning hightlight of the book consists of an example of an actual declaration of truth notice and affidavit of identity on which you can use to model your own document, or copy and take as your own. This particular example has been meticulously researched and fine tuned with regard to making it virtually impossible for your opponent to rebut.
It is meant to help you begin thinking critically about your own life situation and circumstance as it relates to your stance over against government. Each of the two sections of the affidavit is examined in detail with regard to the ideas it presents and why these ideas are being emphasized. Once you begin to understand what you can do within the limits of the affidavit form, you can build upon what you have learned to craft your own personalized document, or just use the example shown as a made-to-order template for your own affidavit.
Get your copy of
Your Declaration Of Truth Notice And Affidavit Of Identity: What You Need To Be Aware Of
You should know that the act of providing sworn testimony of your identity is a powerful act in today's world. Not only will it stop injustice from occurring, it will empower you to regain control of your own legal destiny with regard to your private interests and concerns. Government officials will begin to treat you differently, as they will view you in a different light.

This report will provide you with the critical information you need to know to make a reasonable determination about how to compose and structure your declaration of truth and affidavit of identity. In addition, it will provide you with topical suggestions regarding certain powerful and conclusive ideas you may want to incorporate into your document to make it beyond reproach.

The Introduction section in the report brings into focus certain specific historical precedents in the way that governments have evolved over time in order to assert their authority over people. This helps to put into context the legal precedents that modern government uses in order to maintain its authority over those who are unaware of these legal precedents. Of course, the legal precedents we're talking about revolve around a person's identity and who gets to define it. Once you break the link they use enabling them to essentially hold your "person" hostage to their scheme, you defeat the mechanism used to deprive you of certain of your liberties.

This Declaration Notice and Affidavit can be used in a variety of circumstances wherein one finds himself confronting the corporate state – be it a state or federal government agency. Any time that government attempts to presume your identity so that it can assume control over your private business or financial affairs, you can quash that action by rebutting its presumption.
Special Notice:
Your download today will be the latest Edition (as of September 10th, 2023) of the
Your Declaration of Truth Notice And Affidavit Of Identity
ebook, expanded with
new information, a separate chapter 41 page report,
about
changing your status
to help you begin to put the pieces of the legal puzzle together in your mind. Leave the corporate state plantation by making your choice of political status known to the federal government. Changing your status takes you outside the franchise state and federal jurisdiction through your declaration as an American national. Learn how to maintain your status by educating yourself about the legal issues involved such that the government cannot deny your new status.
Here's how to order.
For maximum value in education it is recommended that you pick up both
How To Handle The Five Scenarios
and
Your Declaration Of Truth Notice and Affidavit Of Identity
together. When purchasing the combination of these two books together, we will apply a discount to the cost of the books.
If you are fairly certain in your ability to handle the five scenarios after having studied
Common Law Remedy
, but you need help understanding all the ins and outs of composing your Notice and Affidavit, each book can be purchased separately as shown below. Each comes with a full eight weeks money back guarantee.
How To Handle The Five Scenarios . . . . . . . . . . $59
Including a free copy of Case Study Answers (a $40 value)
Your Declaration Of Truth Notice
And Affidavit of Identity . . . . . . . . . . . . . . . . . $59
When purchased together in the Discount Package,
How To Handle The Five Scenarios
is $50 and
Your Declaration Of Truth Notice And Affidavit Of Identity
(a $50 value) is $20. Your total cost is $70. As a free complementary volume to the
Five Scenarios
book, included with your order at no additional gratuity is a copy of the 600 page
Case Study Answers, A Series of Answers To Frequently Asked Questions By Common Law Remedy Readers
as supplemental material for your study.
To order
only
Your Declaration Of Truth Notice And Affidavit Of Identity
, click the button below:
To order
only
How To Handle The Five Scenarios
, along with your free complementary copy of
Case Study Answers
, click the button below:
To order
both books
above to receive your Discount Package, including
Case Study Answers
, click the button below:
Your Order Is Fully Guaranteed And 100% Secure!

Remember, you'll have our full eight weeks money back, satisfaction guarantee. If you would prefer submitting an order through the mails using a money order (personal checks not acceptable), that can be arranged; just send an email to our contact email address and we will respond with instructions on how to complete your order.
If you do not have a PayPal account, please read the Important Notice below in order to access the download page after checkout.

What Happens Next:
After you submit the secure form at PayPal, your transaction will be processed live, in real-time (while you wait). This usually takes 10-30 seconds or sometimes longer depending on Internet traffic. After the transaction is processed, if you have logged into your Paypal account, you will be forwarded to the download page where you can download your book(s).
IMPORTANT NOTICE, PLEASE READ:
If you do not have a PayPal account, there will be a link (
CLICK HERE to access Download Page
), once your transaction is completed, on the checkout page which will redirect you to the download page. Do not close the Window, you will need to click on that link to obtain your purchase.